How to ruin your classy image with a pair of jeans
Zinedine Zidane's return to Real Madrid as a manager overshadowed by his own pair of jeans.
Loony thinks it's #hip" use_theme_fonts="yes"][vc_column_text]The word 'class' has been used numerous times in reference to French legend Zinedine Zidane both during his playing career and even during his time on the side-lines as a Real Madrid manager.
The Frenchman has won almost all the important trophies in football including the FIFA World Cup in 1998 and UEFA European Championship in 2000 with his national team. He has won leagues and trophies in both Italy and Spain as a player and a fab won 9 trophies with Real Madrid as a manager in a three year spell, which included a formidable treble of successive Champions League trophies!! Simply unheard of.
Apart from all of these successes, Zidane can boast to have collected a huge number of awards on a personal level. Once again, both as a player as well as a coach.
News travelled fast that Zidane has now been appointed as Real Madrid's manager for the second time after leaving the club last year. Real's season so far without Ronaldo and Zidane has been amazingly below par.
'Los Blancos' are currently third in La Liga, twelve points adrift of fierce rivals Barcelona and also trailing Atletico Madrid. They have also been eliminated from both Champions League and Copa del Rey – #awful
Unlike his outfit, Zidane's reappointment was happily received by many Real Madrid fans. To be fair the jacket, shirt and trainers were all relatively innocuous. Not sure if like Loony, you saw that extremely tight denim, rolled up from the inside out above his bare ankles?! No wonder it raised more than just a few eyebrows.
If you haven't seen it, here it is! Just see below Zizou's jeans stick out like a sore thumb.Again, #awful.
As always the internet put its foot in it and trollers made the very best that this #denim news reaches everywhere, and we mean EVERYWHERE. You otta love the power of social media hah!
One fan describes how 'Zidane was an absolute god' in his eyes but that he 'just destroyed his legacy with one pair of jeans'. ????????????
Others were simply astonished calling the pair of jeans 'criminal' and unacceptable.
While other football fans were even more creative, with this one fan suggesting Zidane had borrowed the pair of jeans from Peter Crouch due to the long folds at the ankles. ????????????
Another Twitter post from @declanvarley put forward the story that Zidane's house was stolen by thieves and the only thing he had left in the house after the robbery, was one of his wife's jeans which he borrowed ????????????
However, in view of all this trolling of one of the greatest football players of all time, Loony would like to remind the trolls that Zidane is not one to mess with.
And just in case you needed a reminder, here you go: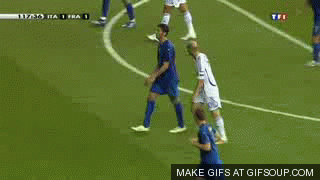 This is what you get when you mess with 'Zizou'!
PS Thumbs up for the jeans. Loony thinks they're pretty hip J[